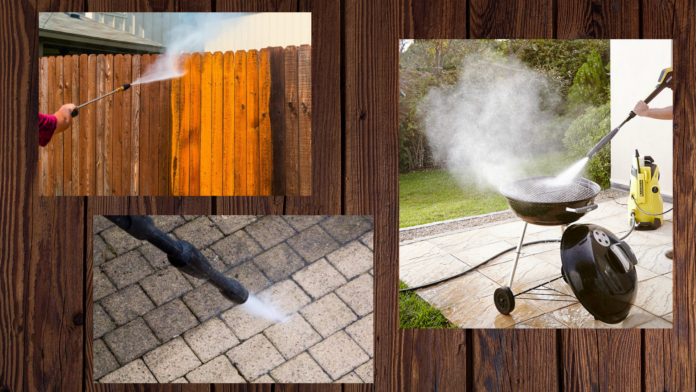 Many people buy a pressure washer for different uses. Most use them to clean the car, windows, and pavement. However, this type of tool, regardless of the one you have picked, can be used to clean many other things. Find out what are the most popular uses of pressure washers.
Driveways and Garage Floors
It is very common to see people using pressure washers in front of their homes, and the reason is that this type of tool is ideal for washing sidewalks, garage floors, and even the front steps of the house.
By using the right water pressure, it is possible to remove dirt from rustic surfaces like this without using traditional cleaning supplies, which will undoubtedly make you take longer and end up more tired.
These types of surfaces are best suited to take advantage of the full power of the pressure washer because they resist the highest level of water pressure.
Concrete or tile patios
Surfaces such as concrete or tile can be left sparkling clean just like using a pressure washer. Cleaning these types of floors with traditional cleaning methods will probably take too much time and require too much energy.
Backyards often have these types of floors, so if summer is here and you have planned a barbecue or enjoy your pool at home, you can use the pressure washer beforehand to get the floors very clean.
House facades and windows
Pressure washing allows users to reach corners that are difficult to clean, especially when the house has two floors and you want to get to the top.
With pressure washers, you don't need to climb a ladder and put yourself at risk, because thanks to the force and pressure of the water jet it can remove the dirt, as well as have a long reach and height.
Thanks to these benefits, one of the most popular pressure washers uses is to clean house facades, including doors and windows.
Fences
One of the most popular uses of the pressure washer is for fences around the house. Fences are often exposed to rain, sun, and dust. The reason is that they are outdoors.
Pressure washers are an ideal tool for cleaning them. By using water pressure to remove that dirt, grease, and dust, you will notice the difference immediately and they will probably look as good as new.
Grills
Some people avoid using pressure washers to clean their electric grills for fear of damaging the electrical system, however, with proper use, there should be no risk involved.
Pressure washers can easily and quickly remove all the grease and grime that gets stuck to the grill after use, so considering this type of tool for that is a great idea. In case of any doubt, you can consult a video tutorial on how to clean them and you will surely not have any problems.
Pressure washers are not only used to wash the car and the driveway, with a lot of care and control of the machine, you will be able to clean many other things.
The idea is to get the most out of your pressure washer to make it worthwhile to buy it.