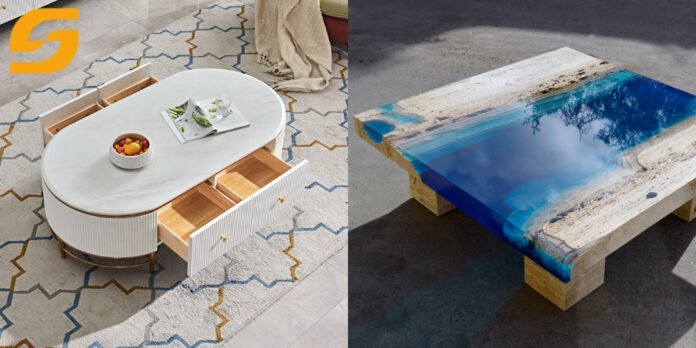 Coffee tables that are made of travertine are known as travertine coffee tables. Travertine is a unique limestone that is found only near hot springs. This stone is known for its classical and style appeal. That's why there is an entirely separate collection of tables under this name.
Travertine is used to make coffee tables, and many other side and outdoor tables are also constructed with this material. This material is now used in innovative ways to introduce a varied variety of tables in the market.
Why Is Travertine Ideal for Coffee Tables?
This is the first question that comes to everyone's mind why travertine when are multiple other materials that can be used in coffee table construction?
Unlike marble and other materials, travertine leaves a roaring impression when you place the coffee cup on them. This material gives a natural look that creates a cozy atmosphere in the room.
Different Types of Tables
1. Carolf Rectangle White Travertine Marble Coffee Table
The combination of travertine and marble with the glass tabletop leaves a luxurious effect on this rectangular table. Carolf has introduced this modern convertible table that can be used as a coffee table in the living or sitting room to elevate the room interior.
You can customize the color of marble and travertine based on your requirements and room interior so the table can naturally blend in with the surroundings. Carolf will provide you with up to a 10-year guarantee on this table.
2. EASTWOOD Travertine with Epoxy Ocean-Style Coffee Table
Eastwood has introduced the tailor-made innovative combination of travertine and resin with ocean-style design. This table will catch the viewer's eyes at first glance and remain its impact deep down in his memory. This table comes up in rectangular and square shapes with a customizable design.
3. SHIHUI Travertine Stone Coffee Table
SHIHUI travertine coffee table is a perfect combination of simplicity and elegance. The table comes up with a round-shaped natural finish travertine tabletop. This elegant beige soothes table will look excellent as a side or corner table with a flowerpot or some decorative piece. You can customize the size of this table according to your requirements
4. Newstar Travertine Coffee Table
Newstar travertine coffee table has very antique due to its sphere balls on base. The table is constructed with a combination of travertine, terrazzo, and marble with an innovative and cozy final look.
This classic honed table can anchor your bedroom, living room, office, or kitchen. Based on customers' requirements, the company also offers various modified designs of the base to increase the table height and look.
5. SUNLINK Travertine Marble Coffee Table
SUNLINK takes a simple one-piece coffee table to the next level of luxury style. This brand's latest travertine marble coffee table is a complete package of innovation and practicality.
Different features of this table include:
A new rock board cabinet.
A large capacity locker.
An E1 environmental protection density board.
While the tabletop edges are designed with stainless steel.
Conclusion
If you are looking for one of these tables or want many more options, check alibaba.com for the massive collection of travertine coffee tables. This site offers countless opportunities for all customers of diverse backgrounds.
Hopefully, you will find your desired table from this website with the assurity of quality, durability, style, functionality, and affordable price.